The natural grass prairie that was our backyard is gone.
Hallelujah.
Brad and Dave (s) spent last weekend building our deck. It was a labor of love. Friday night, David came over to help Brad get the groundhogs in. There was six to drill and one had to go in a super awkward spot, so it was really great that David was able to come help.
Saturday morning, Dave (not David) came over and he and Brad build the frame of the deck. That was as far as we could go because the inspector has to come sign off on the framework before we can put the top boards and railings in.
Withe deck all but done, next up was landscaping. Brad and I ordered 30 yards of soil. 30 yards people. In case you have no frame of reference....
In layman's terms....it's a b*ttload.
It took two dumptrucks to drop it off on our driveway. When the first one came and went, I was thinking it wasn't going to be that bad to move it all to the backyard. Then the second one showed up. F*ck.
Now we have 30 yards of soil to move. What do you think we should have had in place? 4 or 5 wheelbarrows and a group of friends? Well, we had the group of friends all ready to go, but we had one wheelbarrow.
ONE.
Everyone we asked didn't have one. Apparently in our entire circle of friends, only Brad and I own a wheelbarrow. We didn't really have a choice, so one by one, we took loads to the back yard. Two guys stayed in the back spreading it around, two guys were shoveling soil into the wheelbarrow and one was shuttling back and forth between the two.
We did luck out in one regard. The weekend before the weather had been garbage, rainy and damp all day, which would have been a dog's breakfast if we had moved soil that day. Thankfully we had the soil delivered on Tuesday. Brad had taken a few days off, and the weather was perfect.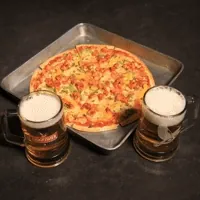 Believe it or not between Brad's parents, Sean, Dave, Yonas, Sylvie, Brad and I we got all that soil moved by late afternoon. After the driveway was all cleaned up, we kicked it old school and ordered pizza and had some beer. It was reminiscent of having your friends come help you move when you're young and the only compensation you can offer is of the cured meat and cheese variety.
The next day I had to go back to work, but Brad was off. Early Wednesday morning the sod was delivered. Sean and Brad set to work and got it all laid out. Brad even built me a raised garden. Woot.
The weather has been quite cooperative. It was clear and sunny, but not overly hot when we were getting the soil and sod, but once we got it all in, the weather went cloudy and rainy. Perfect for watering the newly laid sod. High five mother nature!
Inspector comes tomorrow. I have my fingers crossed that he will sign off on the frame so that we can finish it all off. I am chomping at the bit to turn my deck into a mini rum hut. I even found the perfect umbrella and tiki fountain. The only stumbling block will be getting Brad to agree to it. That might be a bit of a hard sell, but I'm up to it.
We were also planning to build a stone fire pit, but I think we are going in a different direction. Since we aren't 100% sure how we want the layout of the backyard to be (outside of the garden) as we will be getting a hot tub in the future, we didn't want to build something permanent. So we have decided to go with a standing fire thing...What do you call them? You know what I mean though right? A enlarged bird cage type thing. Beauty with that is you also don't need to get a permit, which is a good thing because I have no desire to ever go back to that little shop of horrors.
Just think, by this weekend, I could be sipping my morning coffee in an my new mother's day Adirondack chair sitting in the sun on my deck. I can't wait. Bring on summer.