It's no secret I love online shopping.
One of my favorite sites it Etsy. It's amazing. Unique items that you just can't get anywhere else. Case in point, Pill Boxes.
When I got diagnosed with the big E last year, I knew that I was going to have to take meds twice a day for the rest of my life. Awesome. But whatever right? It is what it is (Gotta love a bit of useless tautology on a Friday morning).
The pillboxes were horrid, but bulky lumbering things that just looked so depressing. If I was going to have to look at this thing twice a day, you can be sure it was going to look cool.
I had bought one on Etsy
last year
and I loved it. It was made by
Stellar Custom Image
s But after a year a opening and closing and dropping (I cannot seem to avoid being clumsy, I think it's in my genetic make up. Preston women, men and offspring manage to get themselves into things), I noticed that my beautiful little pillbox no longer snapped shut. Which meant I got to buy a new one! Hurrah!
I still wanted to get a whimsical one, but I wanted to try a different style. This time I went with
Ruby's Needful Gifts
from Ireland. As awesome as it was and as much as I wanted it, it's always subjective until I see the shipping costs. So as I clicked the glorious "Add to Cart" from Ruby's, I had no idea what I was in for.
If I order something from the States, depending on what I buy shipping can be up to 30% of the cost of what I am buying. I have gone to buy something online, get to the submit section only to see the insane shipping costs, roll myeyes and hit cancel.
For whatever reason though, when I buy things from overseas, shipping is ridiculously cheap! Case in point, this past Christmas I ordered some shirts, posters and other geeked out figurines for Zach from this UK gaming website. I ordered a lot and expected shipping to be off the wall. $5.95 Canadian for express shipping. It arrived in a week.
However, I paid $19 to buy an Xbox one online from the States and it took 3 weeks to arrive. I realise that weight plays into it and all that but really. The wee little pillbox I bought from Minnesota last year was $10 in shipping. So you never really know what you are going to be hit with until you get to the last step before buying.
Suspense got you yet? $4.95. For priority shipping, from Ireland...and click!
This is what I ordered.
Love it.
Neuron Pendant
What I should have done then was smile, be internally pleased with myself for such a clever little purchase and shut off my computer.
What I did do, was continue to browse, which is never a good thing.
Moon Phase Necklace
Now if you read my blog you know I love Science. I could watch science documentaries or read up on the latest innovations all day long. On that note have you ever seen the documentary
Particle Fever
? Holy, it's worth a watch. This documentary dive into
Algorithm
s is pretty interesting too. Gees Louise! Sometimes I really need to focus... back to shopping...
Edison Bulb earrrings
So as I was cruising through Etsy, I found science based jewelry. HELLO! I guess it's all in the eye of the beholder because as cool as the Neuron pendant, Edison Bulb Earrings and Moon Phase necklace were to me, I think I draw the line at Uterus earrings.
Would would wear these?
Etsy also has an amazing selection of artists. Alot of the art prints that I have in my house come from Etsy. Last year I found artist Laura Ali at a popup shop in Winnipeg. At the time she had an Etsy shop and I bought this Watercolor and Ink print called Miss Deary. It is one of my favorites.
Miss Deary
So it was with great restraint that I didn't buy anything else on Etsy. But it did give me an amazing idea. There are lots of occasions coming up in the next little while for which I need to get some gifts. I have been thinking about it for the longest time and I finally figured out what I want to do.
Anyone can go to the store and buy a gravy boat. But there isn't any real thought or effort that goes into it, unless of course, the recipient is a gravy boat aficionado in which case, perhaps it would be.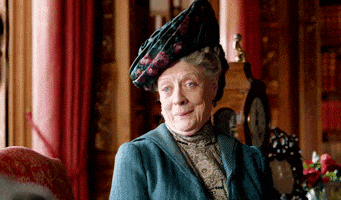 I am going to keep the idea on the down lo for now, but I placed my custom order and it should be arriving from the UK in the next few weeks. In case you haven't noticed, I have a bit of a thing for items from the UK. Must be my British roots coming out.
I had yesterday off (well technically even though I ended up working from home all day) and today as well.
Can't wait for the long weekend and then having next week off as well. No particular reason for the week off, it's just I have some holidays to use up and I'm taking a break after quarter end. Since I'll have the days to myself next week (boys are in school), I'll have to avoid my laptop or the amount of packages I'll be getting in the mail we be nothing short of obscene.