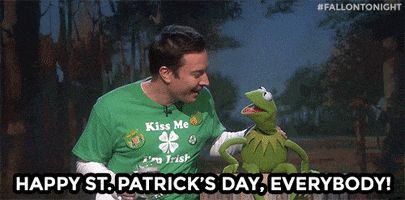 Well no. English actually. But the right side of the pond anyhow.
My friends Sean and Erin are awesome. Love them to pieces. They are always such a blast to hang out with. Sean's beer pong table is the thing of legends and always comes out at least once in any party we are at.
Friday night they invited us over for a St. Patricks Day party. Sean is a card carrying Irishman, so St. Patrick's day is a big deal.
In prep for the party, I went to the store and picked up a few green odds and sods. I found a pair of green eyelashes. Come on! As if I am not buying that.
While we were shopping around, Logan reminded me of his friends birthday party gift we had to buy. I always struggle with buying gifts for kids parties. It's a total crap shoot. Logan said that he had no idea what to get Dana, but that he knew Dana liked Wunderbars and Rieces Peanut butter cup minis.
OK.... snowballing.. we decided to make Dana a candy basket, full to the brim of the aforementioned confections as well as Skittles, Mike and Ike's, Tootsie Rolls, Gum, M&M's....$25 worth of candy.
Essentially we have all but ensured that Dana's blood will turn to fruit punch by the time he's ate his way through Logan's gift.
So with eyelashes and diabetes in tow, we headed home to get ready to go to the Crawford's for some shindiggery. Sadly though, my excitement over my green eyelashes waned as the eyelash glue had the consistency of dry icing. As much as I wanted to completely rock those eyelashes, I valued my eyesight a little more.
The Crawford's house was decorated for St. Patrick's Day the way that some people decorate for Christmas. Shamrocks aplenty.
In the bar, there was Guinness and every beer you could possible even imagine. They even had banana bread ale. Can't say it is my favorite but it was a conversation piece that's for sure. I tried my first Guinness; it was pretty good. I don't know what I was expecting, but I think I thought it was going to be really bitter. It tasted a bit like coffee and molasses and looks like a beer latte.
Sean also made these amazing shots called Mini Guinness. It is Kahula layered with Bailey's. Look remarkably like a little Guinness. Too cute.
As the evening progressed out came the beer pong table. The guys were playing beer pong in the basement, but the back end of the table came close to the bathroom. No one wanted the ping pong ball to go bouncing on the bathroom floor (no Solo cup rinse cycle with save you then), so they closed the door.
I had been drinking a whole of lot of water during the day ( the new kick i'm on) and I had to pee. I made my way to the closed door of the bathroom. Since the door was shut all the time, Sean kept saying, "there is no one in there, just go in". People took his words to heart, but on two separate occasions, there was someone already in the bathroom. The bathroom in their basement is big and the toilet is h*ll and gone from (but head on in front of) the door. If someone walks in, you are going to have a full alfresco situation going on.
With that in mind I headed into the bathroom with full intent on locking the door. The door was one of those ones where you push and twist the door knob to lock it. Alfresco avoided.
Cue 45 seconds later and I am now stuck in the bathroom. The twist and push motion to lock knob was somewhat reluctant to untwist. After some futile attempts to free myself, Sean came over to help (no doubt hearing my minor civil war with the doorknob), but thankfully I was able to get out a few seconds later.
Elegant.
Back in action, I joined in the Darts tournament. The game was easy (in theory). Each player takes a dart, throws it and is assigned the number their dart hit. Each turn from then on you have to try and hit your number on the board; if you get it, you get a point. Once you hit 5 points, you become an "Assassin" which means you can then go after other peoples numbers. If you hit their number, then they lose a point.
Everyone stepped up, threw their darts, got their numbers. Debbie got 9, Jason got 20.... you know what I got?
Drywall.
Attempt number 2..... Drywall.
Third times the charm? Not for me... hit the wooden frame surrounding the dart board.
In the interest of time they gave me a honorary #15. It felt a little like charity. Sigh.. yet another sport I am destined to not go pro in.
It was a really good evening. But it was cut short because we got a call from Logan. Zach was babysitting and they were in the basement playing video games. Nothing was wrong, they weren't fighting or anything, it was just normal house noises, but Logan was getting scared. Even with Zach home, he wasn't used to us being gone. I remember being 12 and finally old enough to stay home alone. Everything is different when no one else is around. Regular sounds like the furnace kicking on or the fridge cycling can send shudders down your spine.
Logan called the first time and we assured him that all was ok. But a hour later when he called again, I could tell he was getting freaked out, so it was time to go home. Thankfully it's a stones throw from Erin's place to ours, so we were home in no time.
It was around midnight, so we tucked the boys in bed. It was a big treat for them to get to stay up so late, but they were pretty bagged. Brad and I were both wide awake, so we flipped on Netflix and decided to pick whatever movie came up on the "Suggested" list rather than root around for 20 minutes trying to find the perfect one.
While Men Can't Jump.
Not bad. Young Woody doing his thing makes for a good movie. Solid end to any evening.